SASEC Road Connectivity Project-II: Improvement of Elenga - Hatikamrul - Rangpur Road to a 4-Lane Highway, Bangladesh.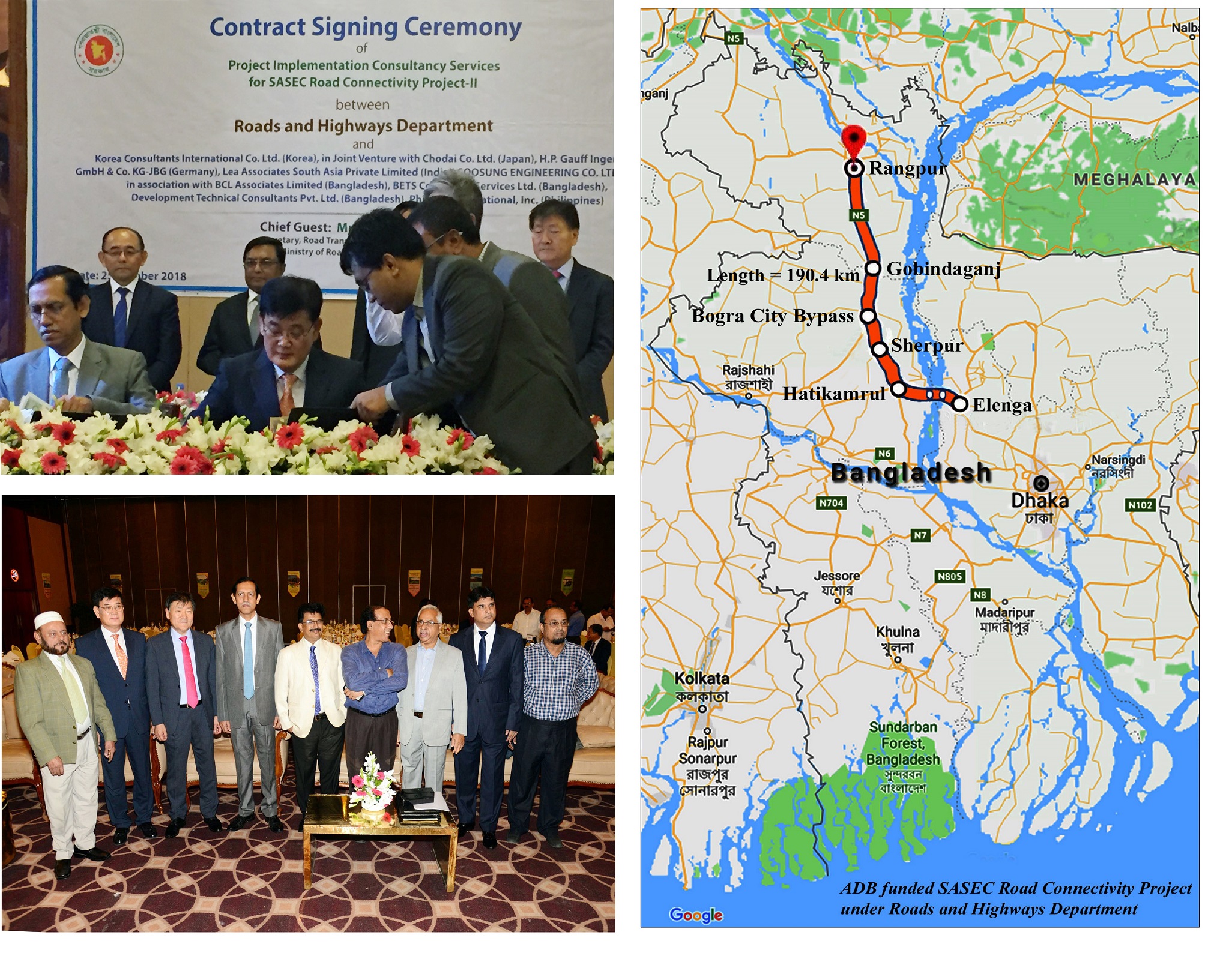 Roads & Highways Department (RHD) & Ministry of Road Transport & Bridges (the implementing agency) has signed the contract in a gala ceremony on 25 October, 2018 with Project Implementation Consultant (PIC) for implementation of this US$ 1420 million project under ADB funding.

BCL Associates Ltd. is the lead National Associate in the Consortium of the Consultants with about 75% of the National Professionals in the team for the largest ever Consultancy contract under RHD at BDT at a contract price of BDT 3,795.28 million, equivalent to US$ 45.72 million.

The consortium comprises Korea Consultants International Co., Ltd. (South Korea) as the Lead in joint venture with Chodai Co., Ltd. (Japan), H.P. Gauff Ingenieure GmbH & Co. KG -JBG (Germany), LEA Associates South Asia Pvt. Ltd. (India), SOOSUNG Engineering Co., Ltd. (South Korea) in association with BCL Associates Ltd. (Bangladesh), BETS Consulting Services Ltd. (Bangladesh), Development Technical Consultants Pvt. Ltd. (Bangladesh), Philkoei International, Inc. (Philippines).

Objective of the project is to enhance the Sub-Regional connectivity among the South Asian nations by providing accessibility through SASEC, Asian Highway, BIMSTEC, SAARC Highway Corridor and to provide accessibility to land ports and economic zones (EZ). Once completed, this Highway will provide better connectivity of 16 northern districts of the country to the capital city of Dhaka.

Project scope of work covers the following areas:

• Upgrading the existing two lane 190.40 km Elenga-Hatikamrul-Rangpur Highway to a 4-Lane Highway with Slow Moving Vehicular Traffic (SMVT) lane on both sides.

• Main components of the Civil Works Contracts include:

(a) Length of the Road - 190.40 kilometre
(b) Bridge - 26 Nos.- 1461.39 Metre
(c) Flyovers - 03 Nos.- 2635 Metre
(d) Railway Overpass - 1 No.- 411 Metre
(e) Steel Foot over Bridge - 11 Nos.- 397 Metre
(f) Box Culvert - 161 Nos.-1102 Metre

• In addition, the project includes Institutional Strengthening of RHD including establishment of the following:
(i) Road Research and Training Centre (RRTC) as RHD centre of Excellence for quality research and Human Resource Development and
(ii) Road Operation Unit for Overload Control, Road Asset Management and Safety operations.

Estimated completion of the project: 2021

Funding agencies: Asian Development Bank (ADB) and Government of Bangladesh.